To register the CD Label Maker, open the software, followed by clicking the "enter code" button that first appears.  This brings up the following window: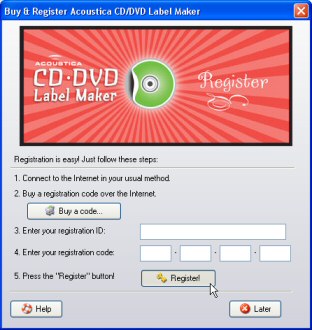 Skip #1 (connect to the internet) and #2 (buy a code), if you have already purchased.
Enter your registration ID in #3 and your registration code in #4.
(Your registration ID is usually your email address.)
Click the "register" button #5.

If you are unable to locate your registration information, you may request it at our automatic code lookup.

More about Acoustica CD/DVD Label Maker

Download Acoustica CD/DVD Label Maker
If you are still having problems registering the software, please contact our support.