Starting with Acoustica CD/DVD Label Maker version 3, we added support for LightScribe drives. LightScribe drives can only print grayscale images and all the images will appear in black and white.
To see color images again, click the Disc Color icon in the upper right corner of the software.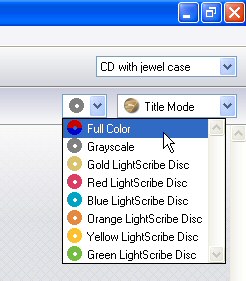 Choose
Full Color
to restore the software to full color mode.  (If you don't see this
Disc Color
 box and you have LightScribe as your paper type, then you need to
download the latest version of Acoustica CD/DVD Label Maker.
)
Learn more about
Acoustica CD/DVD Label Maker (now with LightScribe support!)
Download Acoustica CD/DVD Label Maker